Sunscreens with zinc oxide and titanium dioxide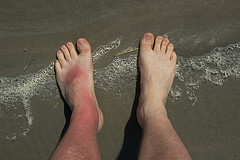 When it comes to natural sunscreens, the active ingredient is often one of two substances: zinc oxide or titanium dioxide. Both substances work by sitting on the surface of the skin and forming a physical barrier to the sun's harmful rays. But what exactly is the difference and which one is better? Furthermore, is there any health risk associated with either of them?
Which one is more effective?
By many accounts zinc oxide is more effective than titanium dioxide. It forms a more effective barrier and it is capable of blocking the sun's longer UVA rays. Titanium dioxide is more effective at blocking UVB rays, but zinc oxide provides a wider range of coverage. The most effective physical sunscreen ingredient is arguably microfine zinc oxide, which covers all of the bases, including both short and long wave UVA rays. This is not to say that titanium dioxide is ineffective. No, it is still a strong physical sunscreen ingredient. But, zinc oxide has the edge here.
Which one goes on easier?
Both of these sunscreens have a reputation for going on white and chalky. However, changes in manufacturing processes and the advent of nanoparticles has allowed to products that are easily rubbed into the skin without the opaque residue. Titanium oxide has a higher chance of showing up "more white" due to its refractive index, but both of these compounds have been aided in their application by nanoparticles and you shouldn't notice too much of a residue with either.
Are there health risks associated with either substance?
By and large, natural sunscreens with zinc oxide and titanium dioxide have been less controversial than their chemical counterparts. For example, see our article on benzophenones, which are found in many chemical sunscreens.
Read
electro-mechanical engineering blog
You might also like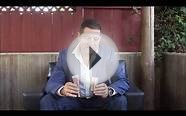 Sunscreens Juice Beauty and Suntegrity produced by the ...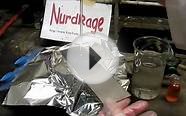 Make Manganese Dioxide Electrodes (for chlorate or HHO cells)
SPF 30 Sunscreen Lotion - With 6% Zinc Oxide, 6% Titanium Dioxide, Vitamin E & Cocoa Butter - Anti Aging UVA + UVB Support for Face & Body - 100% Natural Moisturizer Skin Cream - InstaNatural - 4 OZ


Beauty (InstaNatural)




A SOOTHING SUNSCREEN FOR PRIME UVA & UVB PROTECTION - InstaNatural s Age-Defying SPF 30 Sunscreen is a powerful daily lotion that contains 6% Zinc Oxide and...
100% NATURAL AND EFFECTIVE - This all-natural formula is packed with soothing oils, as well as skin enriching ingredients such as Vitamin E, Green Tea, Aloe Vera...
PERFECT FOR ALL SKIN TYPES - This nourishing SPF 30 Sunscreen tackles dry, rough and sensitive skin types like no other. Plus, it works great anywhere on the face...
THE BEST ANTI-AGING SUNSCREEN AROUND - The Vitamin E in this super-effective blend will supply your skin with incredible antioxidant protection that can help diminish...
NO MORE WORRYING ABOUT BEING IN THE SUN FOR TOO LONG - Want to keep your skin safe and secure from the sun? You re in luck. All it takes is applying this SPF 30...